Report by UCLA Luskin Center for History and Policy proposes policy options for local lawmakers
As severe as it is, the current affordable housing crisis is not Los Angeles' first. And according to a UCLA report, city officials' response to the crisis should be informed by lessons from the city's past.
The paper, published today (PDF), presents several options that could help ameliorate the economic vulnerability and anxiety of the city's growing number of people who cannot afford rent in Los Angeles. The study is the first major publication of the UCLA Luskin Center for History and Policy, which was founded in 2017 with a mission to bring historical perspective to contemporary policy issues.
Aimed at city and state officials, as well as concerned citizens, the report documents the history of rent control policy in Los Angeles from World War II through the present day, focusing on three important milestones: the implementation of federal rent controls during World War II; the introduction of the city's current rent stabilization ordinance in response to high inflation in the 1970s; and today's crisis.
Recent reports indicate that Los Angeles residents face the nation's largest rent burden, with median renters spending 47 percent of their income on rent. According to 2011 data, 57 percent of Los Angeles renters were considered "rent burdened," up from 37 percent in 1980, when rent control was first established. The trend has also contributed to the region's homelessness epidemic — approximately 53,000 people in Los Angeles County are homeless.
Proposed actions outlined in the paper include amending California law to allow Los Angeles to extend rent protections to units that are not currently rent-controlled, such as properties built since 1979 and single-family homes.
"Los Angeles is experiencing a perfect storm of affordable housing shortfalls, rising rents and dropping incomes," said David Myers, a UCLA professor of history and the center's director. "It is crushing the poorest citizens of the city, particularly Latinos and blacks, with disproportionate force, and this interplay has exacerbated homelessness — the great social and moral scourge of our time, and an epidemic that threatens the life and soul of our city."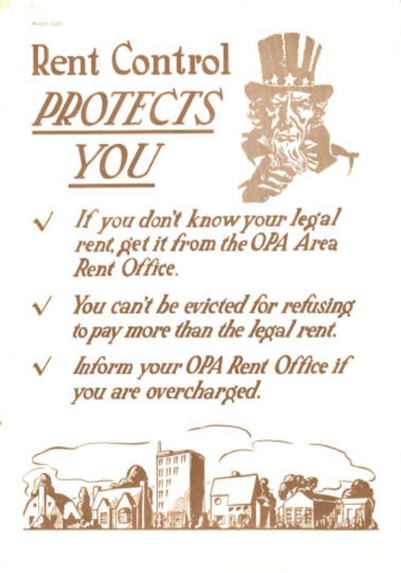 Illinois State Library
A 1945 Office of Price Administration poster
The report also suggests that public engagement is critical. Options proposed in the report include requiring landlords and tenants to sign property registration forms so that tenants are aware of their rights, and a public relations campaign that would cast the crisis as a serious social and public health problem. Both of those actions were undertaken by the federal government during World War II, the paper notes.
"This paper does not delve into debates over long-term housing policies," said Zev Yaroslavsky, a former Los Angeles County supervisor, current senior fellow at the center and author of the study's introduction. "Instead, we seek to assess what government can do in the short term to stabilize the affordable housing crisis and ease the anxiety of renters who are increasingly being priced out of their own homes."
Citizens and policymakers across the state have expressed a renewed interest in rent control as a possible means to address the housing crisis. An initiative to repeal the Costa Hawkins Act will appear on the state ballot in November as Proposition 10.
The report will be discussed at a symposium hosted by the UCLA history department at 7 p.m. on October 16, at the UCLA Faculty Center (map). The event is free and open to the public, but guests are encouraged to register online.
The report's author is Alisa Belinkoff Katz, fellow with the Center for History and Policy and associate director of the LA Initiative, housed in UCLA's Luskin School. Historical information was contributed by UCLA doctoral candidates Peter Chesney, Lindsay Alissa King and Marques Vestal.
Founded through a generous gift from Meyer and Renee Luskin, the Luskin Center for History and Policy is the first academic center of its kind on the West Coast.