The UCLA Luskin Center for History and Policy regularly engages in original historical research on issues of contemporary relevance, uncovering the lessons that history has to impart on us today. These reports, written by teams of LCHP researchers, can provide important context and serve as useful guides for present-day decision makers. Check back regularly for updates and new publications.
For details on the research of individual Luskin Center Research Fellows, see here.
LCHP releases report on UCLA's response to crisis throughout history
The Luskin Center is not only devoted to producing a new mode of research that brings historical depth to issues of policy relevance and urgency.  We are also deeply committed to marshaling the exceptional talents of student researchers, both undergraduate and graduate.  At the same time, we are intent on examining critically our own university environment, especially in the wake of the call for self-reckoning that followed the murder of George Floyd in May 2020.
In this spirit, we are pleased to launch a suite of three new LCHP research reports, all of which have been spearheaded by UCLA graduate and undergraduate students.  The first paper explores the stunning rise and longer-term consequences of contingent academic labor in the University of California system. The second is devoted to the history of race and racism at UCLA, focusing on forgotten personalities and chapters now brought to the light of day.  The third report, released below, took rise in the midst of the COVID-19 pandemic and investigates how UCLA responded to past crises of major scale.
As a whole, these reports offer a much-needed critical and constructive perspective on the institution that we call home. It is our hope that a thorough and honest exploration can show the path to a better and more just UCLA community.  As always, we welcome your feedback and input on this important body of research.
University in Crisis: Challenges and Responses During the Formative Years of the Young Administration at UCLA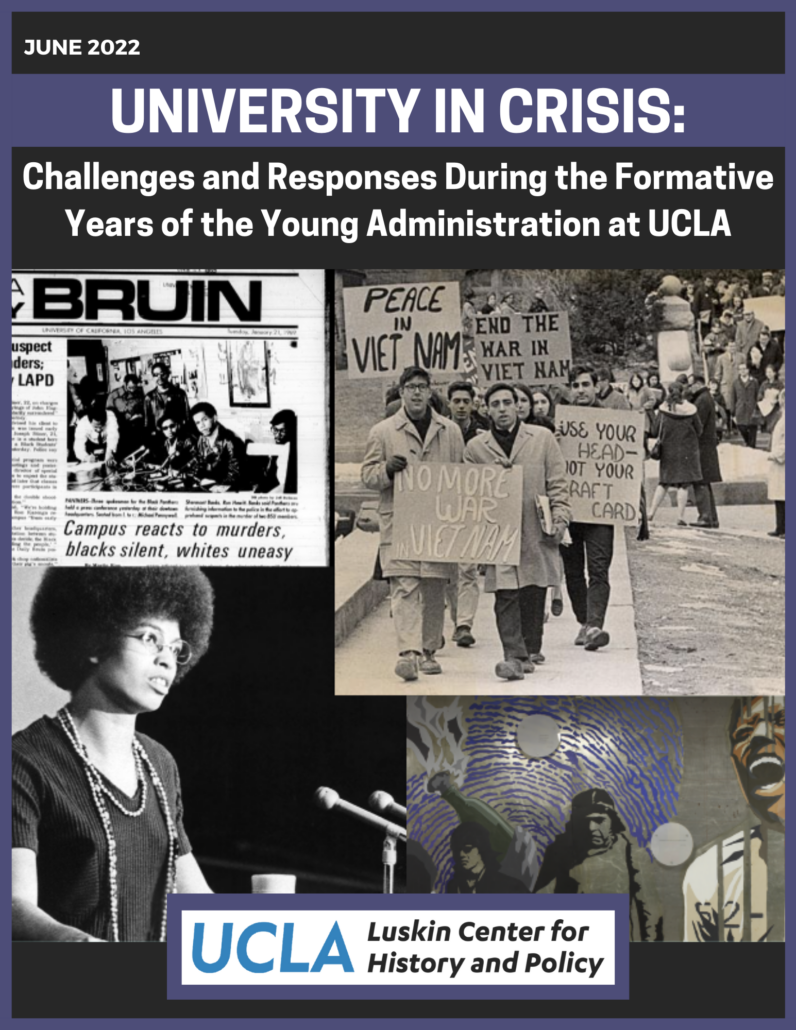 The UCLA Luskin Center for History and Policy is pleased to release the final report in a new series about the history of the UC and UCLA.
The third and final report in this series investigates the university's response to crises of major scale. They examine administrators' approaches to two events in the late 1960s: 1) the student movement for ethnic studies, and 2) the on-campus killings of students Bunchy Carter and and John Huggins.
This report was researched and written by Jazz Kiang, Grace Hae Rim Shin, Nayiri Artounians, Jannelle Dang, Victoria Pfau, and Sarah Son.
The first research team examining this topic included Jessica Guzmán, Kayleah Kellybrew, Matt Philips, Mariam Zahran, and Nicole Zhang.
To read the paper, click [HERE].
Listen to report authors Jazz Kiang, Jannelle Dang, and Nayiri Artounians in conversation with Professor Eddie Cole about their research in the below podcast episode: