Announcements
Check back here regularly to learn about Luskin Center activities, new reports, and other noteworthy updates about our work.
The Luskin Center for History and Policy is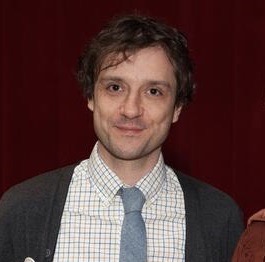 pleased to welcome Dr. Ben Zdencanovic as its first Postdoctoral Scholar! Dr. Zdencanovic will be advancing the center's research, public programming, and overall mission. Read more about him below. Welcome, Dr. Zdencanovic!
About Ben Zdencanovic
Ben Zdencanovic (pronounced sten-CHAN-oh-vich) is a Postdoctoral Associate at the UCLA Luskin Center for History and Policy. Ben is a historian of the United States in the world, domestic and international politics, and economic and social policy. He has a particular interest in the relationship between U.S. global power and the politics of redistribution and welfare state.
Ben is currently working on two book projects. The first, tentatively titled Island of Enterprise: The End of the New Deal and the Rise of U.S. Global Power in a World of Welfare, 1940 – 1955, traces connections between the end of New Deal reformism, the rise of U.S. global power, and the birth of social and economic rights and the modern welfare state around the world in the mid-twentieth century. His second book is a major reevaluation of the "War on Poverty" in the 1960s, viewing it as a political-economic response to the manpower imperatives of racial capitalism, the Cold War national security state, and the unfolding conflict in Vietnam.
Ben has published peer-reviewed articles Journal of Transatlantic Studies and the Radical History Review. In addition to his scholarly writing, he has written essays on history, policy, and politics for popular audiences in outlets such as Jacobin, the Boston Review, and the Washington Post. His writing and research have been supported by numerous grants and fellowships from such sources as the Yale Macmillan Center, the Rockefeller Archive Center, the Roosevelt and Truman presidential libraries, the University of Illinois Foundation, and the Andrew W. Mellon Foundation.
Ben earned his doctorate with distinction from the Department of History at Yale in 2019, where his dissertation was the winner of the Edwin W. Small Prize for outstanding work in United States history. Prior to coming to UCLA, Ben was a postdoctoral fellow at the Yale Jackson School for Global Affairs and an Assistant Instructional Professor at the University of Chicago.