All is Not Well in the Golden State: The Scourge of White Nationalism in Southern California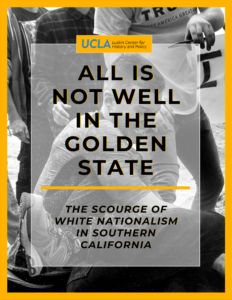 White nationalism is alive in Southern California today. This report examines white nationalism's history, ideology, and present-day operations, and provides some recommendations for confronting the dangers it poses.
The research team of exceptional UCLA undergraduates included: Sareen Ishanyan, Gavin Quan, Noga Tour, and Jeremy Powel, Grace Johnston-Glick, Mayumi Okazaki, James Nee, Rachel Sass, and Matt Ospina, and Lacy Green.
The group's work was facilitated by Ph.D. candidate Sarah Johnson, and Professor David N. Myers, director of the Luskin Center for History and Policy.
To read the paper, click [HERE].
You can also find the Executive Summary [HERE].
To listen to Grace Johnston-Glick, Gavin Quan, and James Nee discuss the report on our "Then & Now" podcast, click [HERE].