The Making of a Crisis: A History of Homelessness in Los Angeles County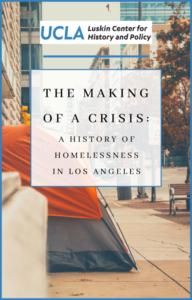 A new report by the UCLA Luskin Center for History and Policy takes a historical view to understand the historic roots of the homelessness crisis in Los Angeles County.
This report was researched and written by Dr. Kirsten Moore-Sheeley, Alisa Belinkoff Katz, Andrew Klein, Jessica Richards, Fernanda Jahn-Verri, Marques Vestal, and Zev Yaroslavsky.
To read the paper, click [HERE]. The fact sheet can be found [HERE], and the executive summary can be found [HERE].
Find the UCLA Newsroom announcement [HERE].
Find Vestal and Klein's LATimes Op-Ed, "What we should have learned from L.A.'s long history of homelessness," [HERE].
LCHP is covering the report findings in a series of podcast episodes on homelessness in Los Angeles. Listen to Vestal, Klein, and Jahn-Verri discuss the report below:
Listen to Moore-Sheeley and Richards interview Dr. Jonathan Sherin, the director of the LA County Department of Mental Health, below: