Luskin Center History and Policy Summit
February 12, 2018
The inaugural Luskin Center History and Policy Summit took place on February 12, 2018 at the Meyer and Renee Luskin Conference Center at UCLA. The summit was led by Luskin Center Director Professor David N. Myers and attended by two groups of participants. The morning session was comprised of state and local leaders in the field of public history education, including Los Angeles-based museum directors and history curriculum developers. Afternoon session attendees included national-level innovators working at the intersection of public history and history communication. Among this group were representatives from several new institutions that aim to apply historical research to policymaking.
Session I
Professor Myers opened the morning session at 9:40 am with a short outline of the mission of the Luskin Center. He concluded by calling for a new and creative effort to link past and present by applying history to policymaking and popular education. These opening remarks were followed by a round of brief introductions by session participants.
Professor Myers then opened the floor to a discussion based around four main questions:
What is the present state of history education among the public? What are the opportunities and challenges of today's historical moment?
What is the most urgent task that faces history educators and public historians today?
What is the value added of history for solving social and policy-related questions?
As historical educators and public historians, how do we navigate the fields of applied scholarship, advocacy, and activism?
In response to the first question, two differing opinions emerged. Several participants argued that the current state of history education among the public is one of crisis. Discussants cited various reasons to consider the present moment to be a troubled one: the widespread diminution of confidence in the media and the inability to distinguish between credible and false news, a rise in anti-immigration policies, a rollback of policies addressing climate change at the federal level, and an acceleration of hate crimes. On a positive note, participants cited the growing public awareness of racism, sexism, and other forms of discrimination – and the resulting increased activism- as reasons for optimism, and they described rapidly expanding public interest in the work of their institutions.
Rick West, President and CEO of the Autry Museum of the American West, suggested that one urgent task facing museums was the renewed importance of creating safe civic spaces for members of the public. Liz Vogel, Executive Director in Los Angeles of Facing History and Ourselves, added that the term "safe space" did not necessarily mean uncontested or comfortable space. Both Tyree Boyd-Pates, History Curator at the California African American Museum, and John Echeveste, CEO of La Plaza de Cultura y Artes, supported Ms. Vogel's statement by noting that they are often faced with the task of undoing misinformation among museum visitors, while telling a story of a violent and exploitive past.
The session concluded by exploring concrete and collaborative actions that could be taken by history educators. Kelly Lytle Hernandez, Research Lead of the Million Dollar Hoods Project and Professor of History at UCLA, called for deep historical research aimed at understanding discriminatory policies and systems of the past and present. Beth Kean, Executive Director of the Los Angeles Museum of the Holocaust (LAMOTH), suggested that museums and educators tap into the resources of young people, highlighting the LAMOTH young professional group that has successfully begun to raise awareness of genocide history among youth in Los Angeles. Michelle Herczog, Consultant at the Los Angeles Country Office of Education, cited the importance of updating state standards on history and civics education to include the stories of previously excluded groups and to explore issues of discrimination. Daniel Diaz, director of the UCLA History-Geography Project, added that the lack of state-mandated assessment on these historical topics can also be seen as an opportunity for teacher-led innovation, and that institutions and curriculum developers focus on supporting public-school instructors.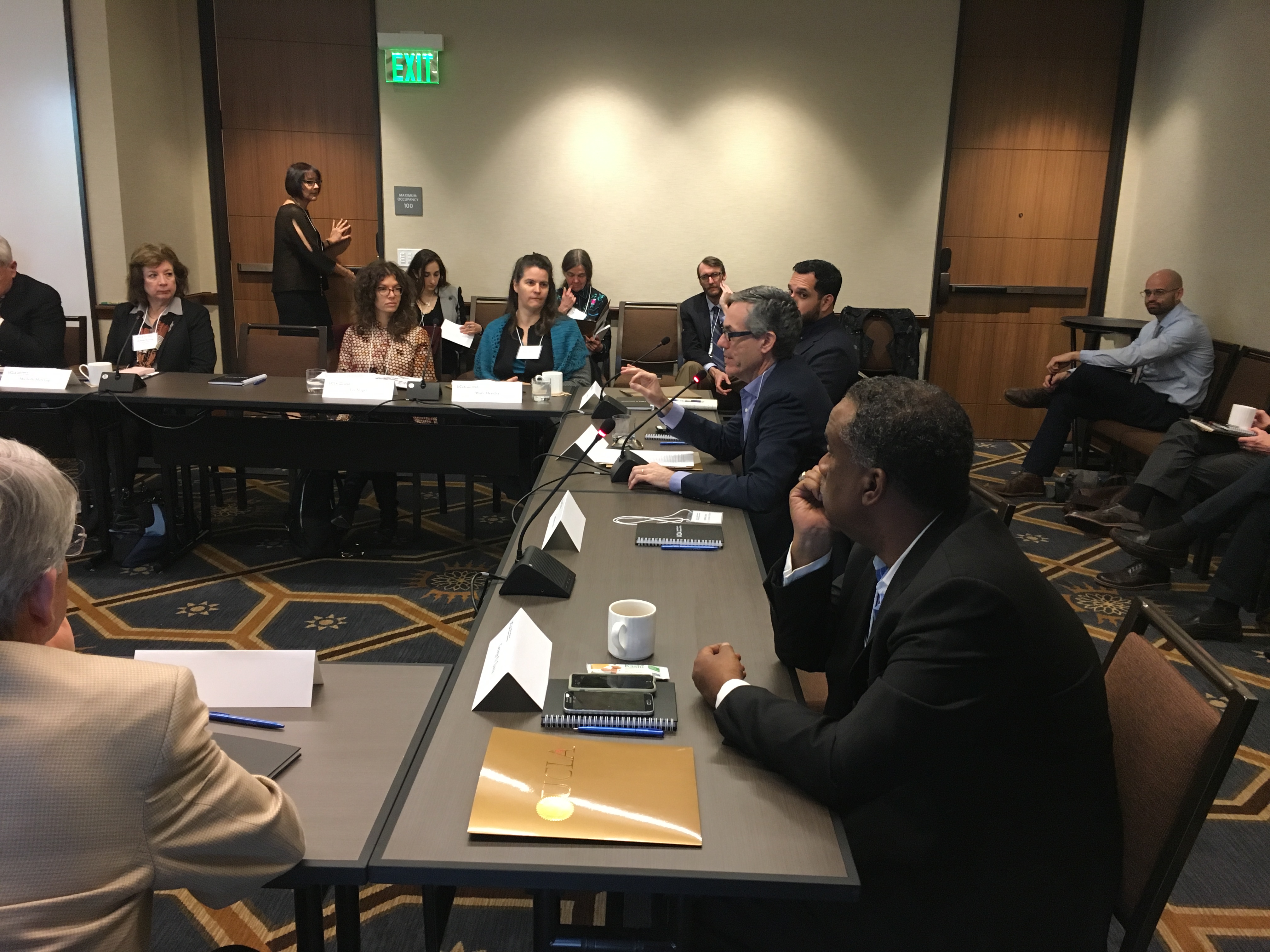 Session II
The afternoon session began with introductions by roundtable participants, during which they outlined some of the challenges they face in seeking to orient historical research toward policymaking.
Several issues emerged. Many participants stressed the need to educate historians about the mechanics of successfully engaging a non-academic audience. The need to alert government and business leaders to relevant historical research was highlighted. A number of participants also expressed the importance of broadening the field of history and policy research to include young people on a larger scale.
Following the introductions, the Chair of the UCLA Department of History Stephen Aron issued a challenge to participants: how can innovators in the field of history and policy collaborate in concrete ways?
The discussion led to a number of important proposals.
Rosalind Remer, Vice-Provost and Executive Director of the Lenfest Center for Cultural Partnerships at Drexel University, proposed that history and policy centers make an effort to work with diverse and non-academic organizations, especially the media. Stephanie Young, Senior Researcher and Associate Director of the Defense and Political Sciences Department at the Rand Corporation, urged that media engagement should happen not only on a national level, but at a local level, in the communities relevant to historical research. Several participants stressed the important role of journalism in bringing history to a wider audience.  In particular, Jason Steinhauer, Director of the Villanova University Lepage Center for History in the Public Interest, called for an increased training in the area of "history communication" in order to make history relevant and serviceable.
Jon Christensen, founder of Institute of the Environment and Sustainability Laboratory for Environmental Narrative Strategies at UCLA, reminded participants that the media was not the only tool for disseminating historical information. He suggested ramping up programs that would train graduate students to use the language of policy in order to make their research more politically and socially powerful.
Dr. James Grossman, Executive Director of the American Historical Association; Jason Steinhauer; and Patricia Limerick, Director of the Center of the American West at the University of Colorado, all agreed that a "first response" or a set of "weekly talking points," created by historians in response to timely policy issues, would help ameliorate the proliferation of inaccurate information on social media.
Following a discussion on collaborative strategies recommended for leaders in the field of history and policy, Professor David Myers concluded the session by listing the main proposals:
Share and promote content across institutions and universities.
Improve history communication by creating programming that teaches historians to "translate" their research into language accessible to a broad audience.
Engage journalists and public officials.
Create a consortium of leaders in the field of history and policy.