A Century of Fighting Traffic Congestion in Los Angeles (1920-2020)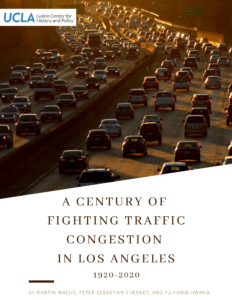 LCHP Research Fellows (2019-20) recently completed their report tracking the history of fighting traffic congestion in Los Angeles.
This report was completed by Martin Wachs, Distinguished Professor Emeritus of Civil and Environmental Engineering and City and Regional Planning at the University of California, UCLA PhD candidate Peter Sebastian Chesney, and UCLA Master of Urban and Regional Planning Candidate Yu Hong Hwang. Read more about the research team here.
To read the paper, click [HERE].
To see a timeline of attempts to solve the "congestion problem" in Los Angeles, click [HERE].
To listen to the podcast episode with the authors, click [HERE].