LCHP Releases Report on the History of Voter Access in California
Reckoning with Our Rights: The Evolution of Voter Access in California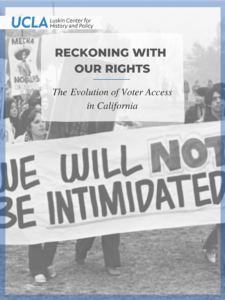 A new report by the UCLA Luskin Center for History and Policy takes a historical view to understand why, in 2020, the electorate in California specifically remains so demographically and socioeconomically skewed.
This report was spearheaded by Alisa Belinkoff Katz, LCHP fellow and associate director of the Los Angeles Initiative at the UCLA Luskin School of Public Affairs. The research team also included Zev Yaroslavsky, a senior fellow at the center, UCLA PhD candidate Izul de la Vega, undergraduate Saman Haddad and recent graduate Jeanne Ramin.
To read the paper, click [HERE].
To read the UCLA Newsroom announcement, click [HERE].
To watch the Why History Matters event discussing this report, click [HERE].